ProGame shock pads are made of closed-cell, chemically cross-linked polyethylene foam nspecially designed for artificial grass sports grounds. The combination of the unique XC punching with a layer of laminated PET non woven fabric guarantees excellent drainage properties quick and easy installation and very high dimensional stability on every field.
The shock pads are provided in rolls with a width of either 1,80m or 2,00m. Roll length is according customer request, typically the width of the sports pitch.
Contact sales
Quick and easy installation



Part 1: Installation of the Progame Shock Pads
Installation direction of ProGame shock pads is normally in the same direction as the synthetic turf carpet, in cross direction of the a full size sport pitch.
Lay shock pad rolls side by side and start unrolling the rolls from one side of the pitch.
Connect the rolls in length direction with ProGame adhesive tape. We recommend to use our welding machine to tape the rolls together, which is the most efficient and easiest way of taping.
Leave the overlapping pad at the sides of the pitch until the artificial turf carpet and infill is installed. This overlap is for compensation of apossible movement during installation and can be cut close to pitch edge when installation of the whole system is done.
Part 2: Installation of the Artificial Turf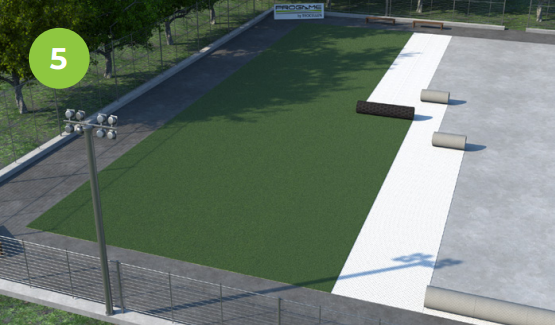 After installation of 3 rolls of ProGame shock pad the first synthetic turf roll can be installed on top of the foam pad. Particularly in windy days, it is mandatory to follow the instruction above.
Turf is laid and glued with a bi component glue, lines can be tufted in or added during installation process.
When the turf is laid and glued, last process is spread of infill.
Contact sales